WALTER V-Drives
Walter V-Drives are precision gear drives which allow inboard engines to be placed in the stern (rear) of a boat.

Advantages include:
Greater safety (with propeller tucked under the boat, not under swim platform)

Improved handling, reduced drag and bow rise

Shallower draft

Increased cockpit space inside the boat

Reduced maintenance and increased reliability compared with sterndrives

The simple rugged design -- made in the USA -- has been proven in service for more than 60 years !
The Walter V-Drive enables the propeller to be tucked under the hull in front of the rudder (below left) -- instead of hanging off the stern next to the swim platform as with a sterndrive or inboard/outboard (below right).
This safety feature is important on small recreational runabouts designed for water sports enthusiasts, especially with small children aboard (or an inexperienced captain).

Q-u-i-e-t and Compact Design
Q - U - I - E - T design features time-tested precision-ground helical gears (same manufacturing process as aircraft gearing) for smooth and quiet operation. The small vertical offset allows the engine to be mounted lower in the boat resulting in a lower the center of gravity. This lower center of gravity greatly enhances boat handling, tracking and stability.
Walter V-Drives are available in Direct Mounted and Remote Mounted models, in a wide variety of sizes -- each with numerous standard gear ratios and V-angles -- to accommodate nearly every application on runabouts, wakeboard boats, houseboats, cruisers and fishing boats.
Direct Mounted Models
Direct-Mounted models couple to the back of simple and inexpensive direct-drive (1:1) transmissions. Because of the short length and small vertical offset, they are the perfect solution for ski boats, runabouts and wherever space is limited. Unlike expensive sterndrives which are constantly immersed in water, Walter V-Drives have a simple, reliable and efficient design which is inexpensive to maintain and repair.

Remote Mounted Models
Remote-Mounted models (also known as "Independently-Mounted") can be positioned a few inches or several feet away from the transmission, allowing the boat designer a great variety of engine placements. The remote mounted V-Drive, securely fastened to the hull stringers with its own adjustable mounting brackets and thrust bearing, allows the engine to be soft mounted. A flexible joint assembly, splined connecting shaft and self-aligning bearing isolates engine movement from the propeller shaft resulting in less noise and vibration being transmitted through the hull -- especially useful in diesel engine applications.

Proven Design -- Rugged and Reliable
Walter V-Drives have proven their reliability with more than 60 years in the field.
Feature the highest quality precision ground helical gears made from the finest alloy steels

Manufactured with rugged tapered roller bearings

One piece main housings for vibration dampening and accurate gear alignment

Self-reversing bi-directional oil pump to force feed lubrication to all internal components

High capacity water-jacketed cooling to reduce operating temperatures and increase life
There is no substitute for time-tested reliability

Computerized Machining + Old World Craftsmanship
Walter Machine combines 75+ years of old-world craftsmanship with the most advanced computerized (CNC) machining in the manufacture of each Walter V-Drive. Precision components combined with a superior design results in long term reliability you can count on.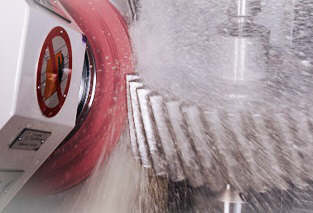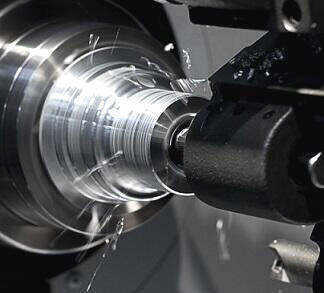 Factory Rebuilding Service
Our staff of expert factory technicians is available to repair your Walter V-Drive. Factory professionals rebuild your V-Drive using only the correct premium original equipment marine-grade parts -- no used or inferior aftermarket substitutes are used.
Our repair philosophy is simple, we repair your V-Drive to factory specifications, we do it in a timely fashion, and we do it right the first time.
Every effort is put into facilitating quick turnaround to get your boat back on the water.

We provide an accurate quotation and await your approval before proceeding with the repair.

Our labor rate is extremely competitive, often below local rates.

After rebuild, all V-Drives are run on factory test stands and checked for proper operation prior to shipment. Our goal is to exceed your expectations.

Genuine Factory Parts
Walter Machine maintains a large stock of V-Drives and parts for quick shipment. For more information, please call 201-656-5654, email info@waltergear.com or fax 201-656-0318 with the V-Drive Serial Number (see below).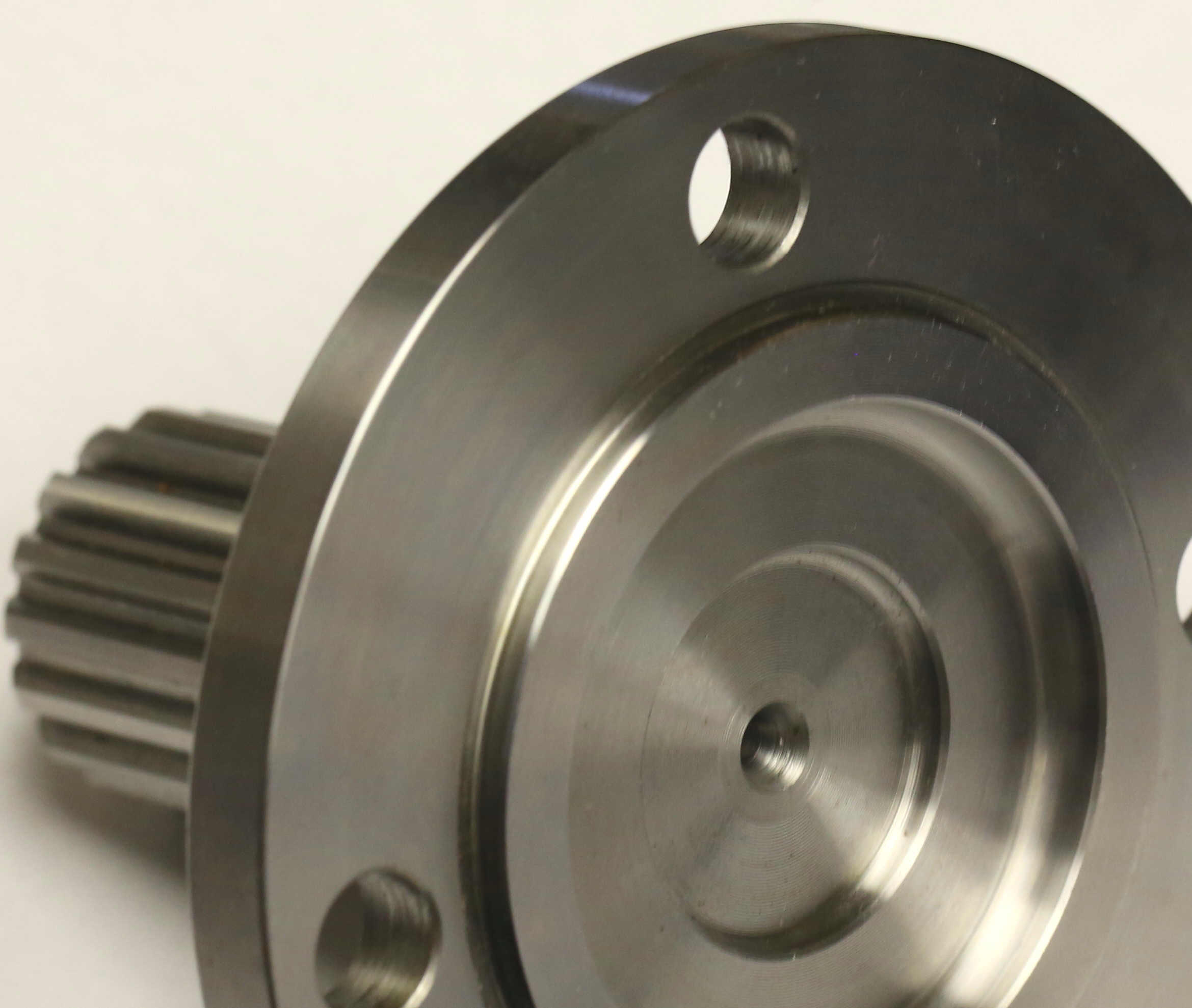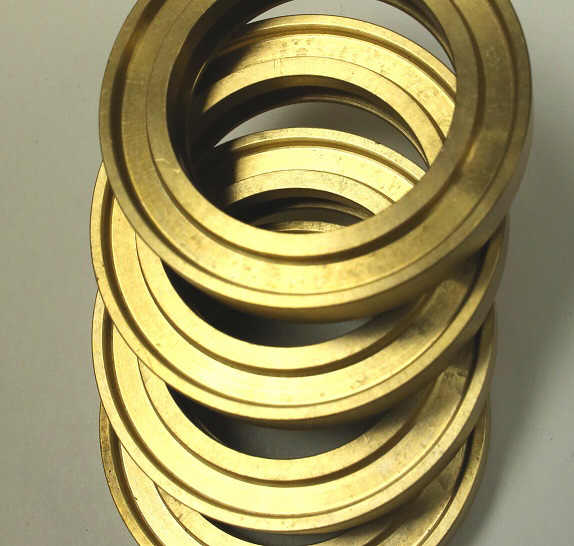 Identification - Serial Number
The serial number must accompany all requests for replacement gear drives, parts, or information (the model number is not sufficient).
The serial number is stamped into the serial plate. The serial plate is a gold and black brass plate, the size of a business card, rivetted onto the main V-Drive case (on most models it is located on the side facing the bow of the boat). The serial plate usually contains:
The serial number

The model number

The gear ratio
The numbers are stamped into the plate. If the numbers are not clearly visible, or are painted over, lightly sand the plate with fine sandpaper to expose the numbers.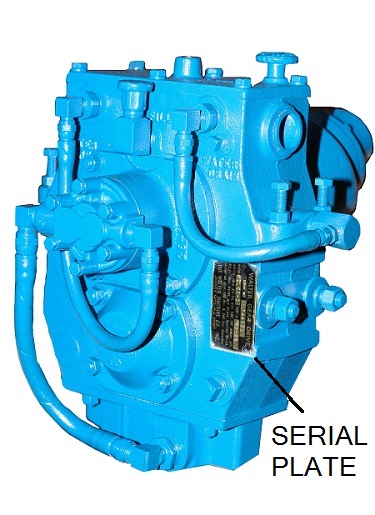 If the serial plate has been removed, please fill out the "V-Drive Identification Guide" below.